Ancestors of Kristina Matilda Björndahl
Kristina Matilda Björndahl immigrated to Pueblo, Colorado, in 1890. There she met and married Carl Gustaf Hedberg of Falun, Sweden, who had immigrated in 1881 to Falun, Kansas. Most of her ancestors lived in Karlskoga, although her Björndahl line comes from Visnum. Although I have been working for many years on this genealogical record, it is still a work in progress. Recently, several people have given me information about Kristina's ancestral lines outside of Karlskoga. This information has not been included, but it is described in research. A list of places can also be found in research. (See home page for the link.)
If anyone has additional information or corrections, please let me know.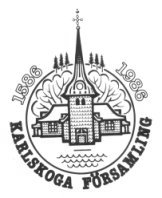 ---
Table of Contents
Ancestors of Kristina Matilda Björndahl
Surname List
Index of Names
Sources (Bibliography)

---