Hello.
Tired of those grocery bags under your sink or falling out of a kitchen drawer? Then you need a cute and decorative way to recycle those extra grocery bags. Demarice's Bag Bunnies are just what you're looking for! Hang the bunny from your kitchen cupboard handle or any door knob where she will be a unique and decorative touch to your home. No more grocery bag mess and they are always within easy reach. The lace and elastic gathering at the bottom of her dress keeps your sacks from falling out and make it easy to insert or remove as needed. What a great way to recycle! Best of all they're machine washable! Order yours today for only $15.00 plus $3.95 shipping and handling. ($18.95 total). Will ship within three days of receiving payment. Since I am home-based, I can only accept PayPal, money orders or cashiers checks. Satisfaction gauranteed.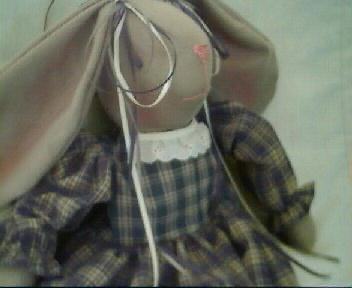 Join the 350 households who already own one of these adorable Bag Bunnies! I will custom make your Bunny to match any home decor *color upon request. Heads are available in various colors. For only $15.00 plus $3.95 shipping and handling. You will be the proud owner of one of these cute, adorable, and useful items. A great gift for any occasion.

*Main dress background color examples: light, dark, plaid, fruits, vegetables, farm animal prints etc. Depending on available fabrics.

To place an order, questions or comments please e-mail me demsbunnies@pmt.org